IRVINE, Calif., Nov. 15, 2019 — BIOLASE, Inc. (NASDAQ: BIOL), the global leader in dental lasers, today announced it appointed Michael DiTolla, DDS, FAGD to its board of directors, effective November 14, 2019. The appointment increases the size of the BIOLASE Board of Directors to seven members.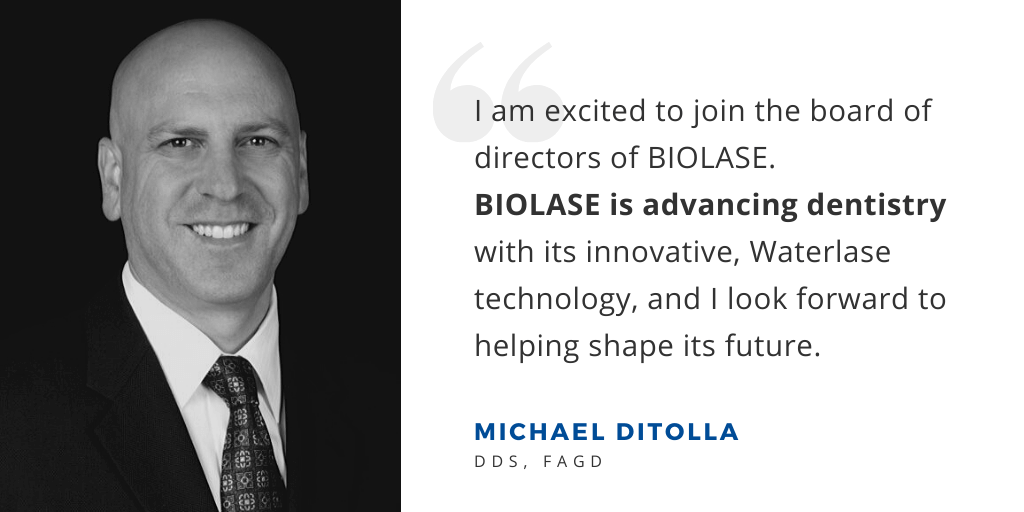 Dr. DiTolla, age 55, is a seasoned dental executive and a graduate of the University of the Pacific School of Dentistry. Mike was awarded his Fellowship in the Academy of General Dentistry (FAGD) in 1995. He was in private practice for 15 years before becoming Director of Clinical Education for Glidewell Labs for the next 15 years, giving him an intimate knowledge of American dentists' crown and bridge habits. From 2006 to 2009, Mike led the clinical team that developed and brought BruxZir Solid Zirconia to market. In 2011, he received the "Most Effective Dentist Educator" award in a nationwide survey of dentists. In 2015, he became the Director of Clinical Affairs for Sirona, and, in 2017, he became the VP of Clinical Affairs for AEGIS Communications. He has given over 1,000 lectures to dentists worldwide, and his online videos have been viewed more than 15 million views by dentists worldwide.
"Mike's extensive experience in both dental practice and education will be extremely helpful to BIOLASE as we continue to execute on our commercialization efforts and expand the reach of our Waterlase technology," commented Jonathan T. Lord, M.D., Chairman of the Board of BIOLASE. "We are delighted to have Mike join our board and look forward to his contributions as we continue to execute on our plan for long-term growth."
"As we look to create new standards of care in minimally invasive, soft tissue management for the General Practitioner to address the growing concern of under-diagnosed and under-treated Perio and Periimplantitis, Mike will be a great addition," said Todd Norbe, President and Chief Executive Officer of BIOLASE. "We appreciate Mike's confidence in BIOLASE and his confidence in lasers becoming the standard of care in dentistry."
"I am excited to join the board of directors of BIOLASE," said Dr. DiTolla. "BIOLASE is advancing dentistry with its innovative, Waterlase technology, and I look forward to helping shape its future."
Learn more about Waterlase Laser Dentistry Today!
---
About BIOLASE, Inc.
BIOLASE, Inc. is a medical device company that is a global market leader in the manufacturing and marketing of proprietary dental laser systems that enable dentists and dental specialists to perform a broad range of minimally invasive dental procedures, including cosmetic, restorative, and surgical applications. BIOLASE's laser systems are designed to provide clinically superior, patient-friendly results for many types of common dental procedures compared to those achieved with traditional instruments. BIOLASE has sold 38,900 laser systems to date in over 90 countries around the world.