WATERLASE TECHNOLOGY FOR DERMATOLOGIC SKIN RESURFACING
The Waterlase Fractional Handpiece by BIOLASE utilizes an advanced Er,Cr:YSGG laser* and water atomization, resulting in faster healing and recovery time.
FEATURES AND BENEFITS:
FDA-cleared for safe, effective, and in-demand dermatologic
skin resurfacing therapy
Diffractive, micro optics lens array delivers 10 microbeams
in a single line per laser pulse for ablative and non-ablative
skin resurfacing
Handpiece fits comfortably and ergonomically in either hand
No local or topical anesthetic required for many procedures
Reduced risk of complications compared to more invasive
procedures
Proven wavelength — effective full-face treatment while
reaching the dermis layer
Single-use disposable applicators for patient safety
*Waterlase iPlus software version 2.3.11 or later and firmware version 2.1.2 or later. Dentist/Clinician must know and adhere to state guidelines and regulations when purchasing and using this accessory. Check with your state and or local government for required permits or other applicable laws. The Fractional Handpiece is for extraoral skin resurfacing only, and is not intended for intraoral use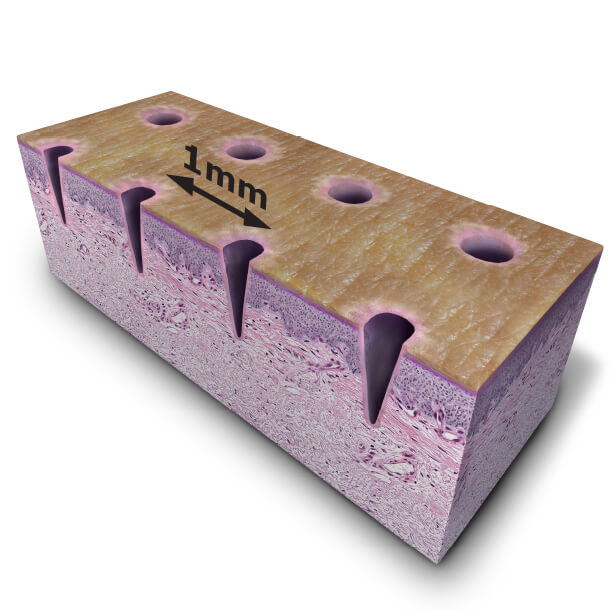 The Waterlase Fractional Handpiece treats only fractions of the skin by perforating the epidermis with 10 microbeams in a row.
"Pixelated" perforations (about 250μm diameter) are made in the skin as the clinician moves the handpiece in a single pass.
Coagulation of the dermal collagen is produced, which increases cutaneous contraction after healing.
Surrounding tissue is left intact and undamaged.
Rapid re-epithelialization in less than 24-48 hours, minimizing downtime.
Enhance your portfolio of cosmetic services with the Waterlase Fractional Handpiece and your patients will want to tell a friend.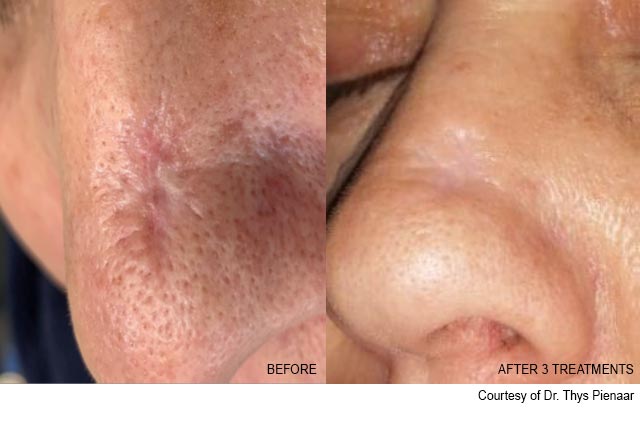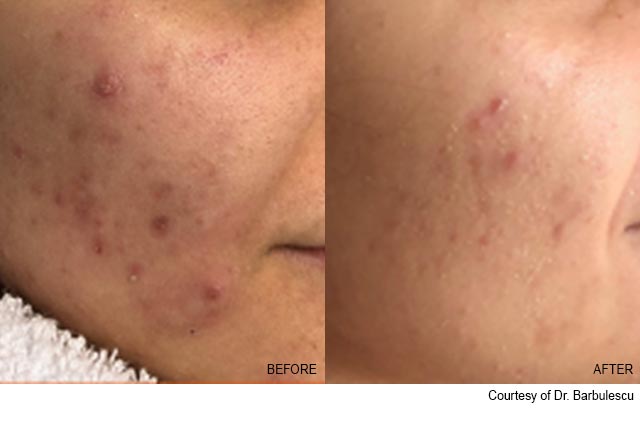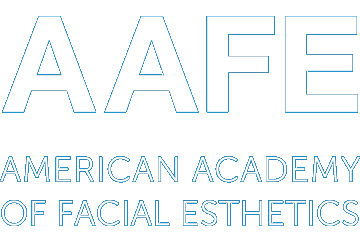 BIOLASE is pleased to announce its partnership with The American Academy of Facial Esthetics (AAFE). Included with every purchase of the Waterlase Fractional Handpiece is a four-hour, in-person, skin resurfacing training session at no additional charge! This training will take place at The American Academy of Facial Esthetics (AAFE) facilities. and will be conducted by their team of highly skilled professionals. Contact us for more details.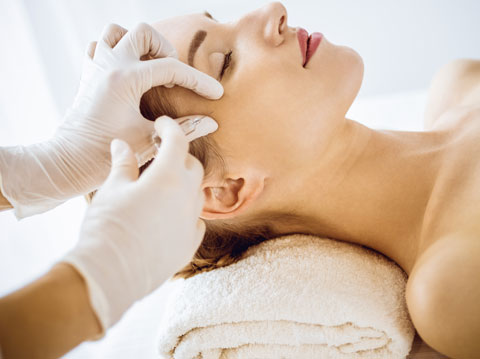 Since the very conception of the fractional handpiece, it has been a very interesting tool that I could add to my office using the same laser system I already owned. As I already worked with different laser systems ( Er, Cr:YSGG and 940 erbium laser with different handpieces and tips) to obtain better cosmetic results in different dermatological treatments, the addition of the fractional handpiece and its technology was the best choice to obtain the results I needed with my patients.
"Waterlase has been a very important part of my practice for over 5 years, used in many of the dental procedures we perform. Additionally, the Fractional Handpiece is a great complement to our service offerings, especially with the aesthetic treatments we perform. It's delicate, painless and very effective at facial resurfacing. My patients, who are seeking regenerative, anti-aging treatments, like it very much."
"The Waterlase Fractional Handpiece is another tool within our clinic at Bluebell Dentistry & Aesthetics. We use it for skin resurfacing, pigmentation, acne scar revision and treating uneven skin tones. It's a cutting-edge therapy which is convenient and comfortable for our clients and certainly improves professional efficiency for the clinicians. Additionally, it provides a new income stream to the practice, and we have many happy patients increasingly requesting this type of treatment at Bluebell. The microscopic resurfacing provides a quicker recovery than other types of lasers, meaning less downtime for the patient. Our aesthetics clients are delighted with the results and have said how much it has helped to improve their confidence."
| | |
| --- | --- |
| Laser medium | Er,Cr YSGG |
| Wavelength | 2780 nm |
| Operating modes | pulsed |
| Pulse width, μs | 60 μs, 700 μs |
| Pulses per second | 15 Hz |
| Total energy/pulse: | 100 – 400 mJ |
| Energy per spot: | 10 – 40 mJ |
| Spot Diameter: | 250um |
| Spot spacing: | 0.9 mm & 1.0mm* in Y direction (*based on movement speed of 15 mm/second) |
| Fluence per spot: | 20 - 82 J/cm22 |
| Surface coverage: | 5% (single pass; *based on movement speed of 15 mm/second) |

Please contact your local distributor for additional product information outside of the United States.