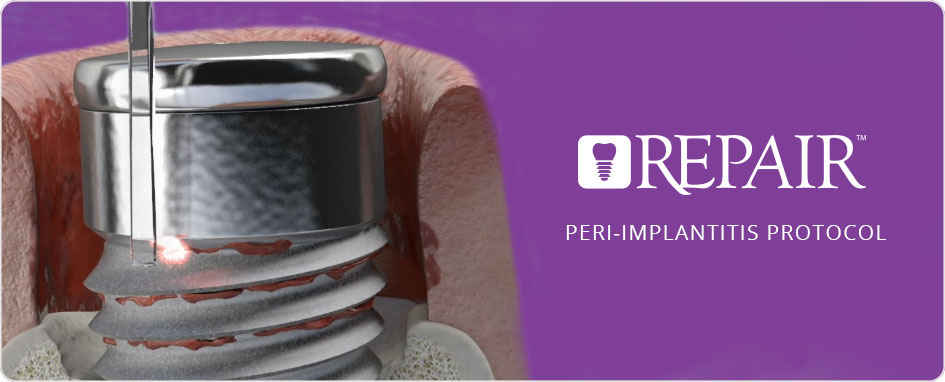 A New Way to Manage Peri-Implantitis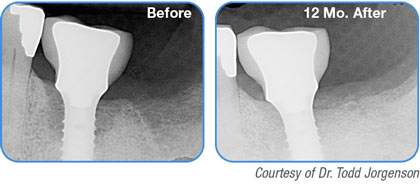 As the dental profession adapts to rapid advances in dental implants, it is critical that your office is equipped to meet clinical challenges and manage any cases of peri-implant disease that may arise.
Today's dentists must offer a gentle, effective, modern therapy for incidences of peri-implantitis. BIOLASE dental lasers offer fast, effective, minimally invasive alternatives to traditional implant surgical tools.
Our Waterlase Express and Waterlase iPlus feature the REPAIR Implant protocol for flapless, acid-free debridement of the implant and surrounding tissues.
The ALL-NEW Waterlase Side Firing Tip™
Our NEW Waterlase Side Firing Tip (SFT) is ideal for safely and effectively debriding implant threads. The 180° directional handle and uniquely tapered design put more confidence in your hands. Oral health professionals including dentists and hygenists are able to treat infected subgingival implant surfaces without opening a flap.
In conjunction with Waterlase Express™, the REPAIR Implant™ protocol with SFT is a groundbreaking solution for the management of peri-implantitis.
Minimally invasive, no scalpels, sutures or open flaps
Treat specific sites or full-mouth cases in a single visit
Increase patient flow and case acceptance with patient-preferred laser technology
| | | |
| --- | --- | --- |
| Feature | Side Firing Tip (SFT) | Traditional Methods  |
| Access to subgingival infected implant and in-between threads, without opening a flap | | |
| Effective at removing >98% of biofilm on infected implant* | | |
| Does not damage titanium surface or significantly affect surface temperature | | |
Clinical Articles, Studies and Research
"Er,Cr:YSGG Laser Effectively Ablates Single-Species Biolfilms on Titanium Disks Without Detectable Surface Damage" Strever, Lee, Peacock et al. (abstract)
"Treatment Outcome Following Use of the Er,Cr:YSGG Laser in the Non-Surgical Management of Peri-Implantitis: a case series" by Al-Falaki, Hughes, and Cronshaw (summary abstract)
"Evaluation of Contaminated Implant Surfaces Irradiated by an Er,Cr:YSGG Laser" by Berk, et al. (abstract)
"Advantages and Esthetic Results of Er,Cr:YSGG Laser Application in Second-Stage Implant Surgery in Patients with Insufficient Gingival Attachment" by Arnabat-Dominguez, et al. (abstract)
"The Role of an Er,Cr:YSGG Laser in the Placement of Immediate Molar Implants" by Singer, et al. (full article)
"Treatment of the Contaminated Implant Surface Using the Er,Cr:YSGG Laser" by Miller, et al. (abstract)
"Er,Cr:YSGG Laser Assisted Surgical Treatment of Peri-Implantitis with 1 year re-entry and 18 month follow Up" by Azzeh et al. (abstract)
Clinical Videos
Treatment of Advanced Peri-Implantitis, courtesy of Dr. Robert Miller (clinical video)
Debridement of Implant Surface with Waterlase, courtesy of Dr. Robert Miller (clinical video)
Sculpting the Emergence Profile with Waterlase, courtesy of Dr. Robert Miller (clinical vide0)
Implant uncovering with Waterlase (clinical video)
Implant Uncovering with Waterlase (clinical video)