A better way to manage peri-implantitis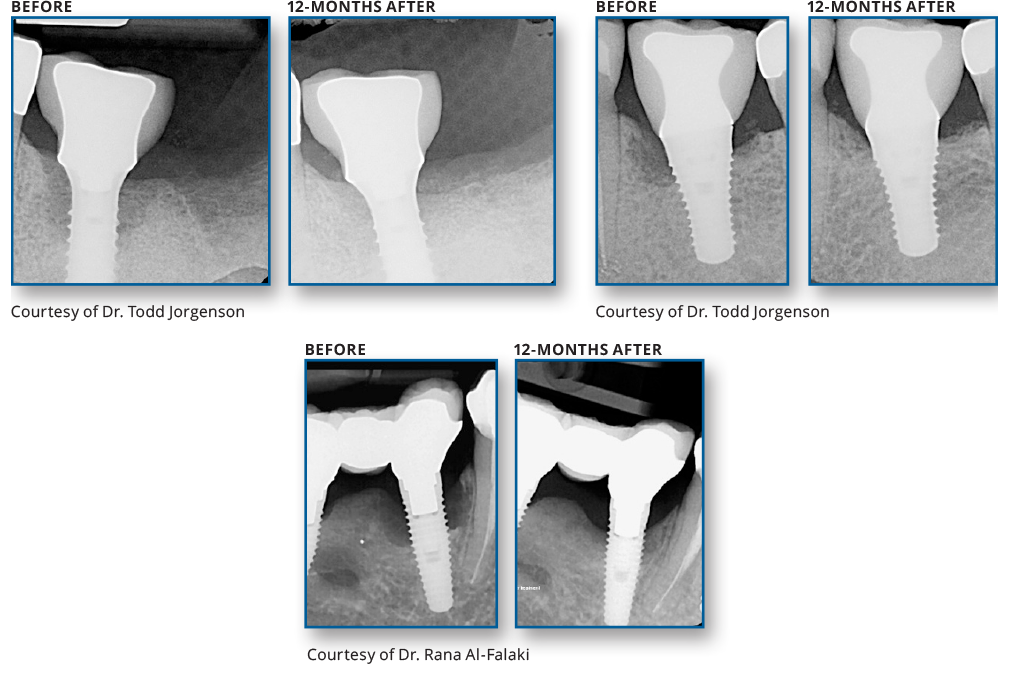 Dr. Paul Chang discusses why successfully managing peri-implantitis is more important than ever. 
Successfully managing peri-implantitis is more important than ever
REPAIR Implant™ provides clinicians a scientifically advanced method to assist with the growing threat of peri-implantitis. Utilizing the Waterlase® and patented Radial Firing Perio Tips™ (RFPT), and Side Firing Tips™ (SFT), REPAIR Implant provides a minimally invasive and easy way to work on infected titanium implants.
Results supported by a first-of-its-kind human histologic study published in the Official Journal of The Academy of Osseointegration. View Here.
Easy subgingival access to implant surface and in-between threads, without reflecting a flap
Treat site specific or full mouth cases for greater flexibility in treatment planning
Cooling water and laser interaction effectively debride the implant surface without damaging or significantly affecting the surface temperature of the implant
Gentle removal of granulation tissue associated with implant disease
Human Histologic Evaluations of the Use of Er,Cr:YSGG Laser to Decontaminate an Infected Dental Implant Surface in Preparation for Implant Reosseointegration
Myron Nevins, Stefano Parma Benfenati, Primo Galletti, Andrei Zuchi, Cosmin Sava, Catalin Sava, Mihaela Trifan, Andriano Piattelli, Giovanna Iezzi, Chia-Yu Chen, David M Kim, Isabella Rocchietta
This investigation was designed to evaluate the reestablishment of bone-to-implant contact on infected dental surfaces following decontamination with Er,Cr:YSGG laser and reconstructive therapy.
International Journal of Periodontics and Restorative Dentistry, November/December 2020, Volume 40, Issue 6
"The McGuire Institute designed a randomly controlled clinical trial with the strictest of protocols— examiners were calibrated and blinded to the treatment preformed, and test and control sites all received non-surgical root planning prior to receiving random assignment of either minimally invasive surgery (MIST) or Er:YSGG laser mono-therapy.

We believe this study sets a new standard in laser research in treating periodontitis. At the 6 month time point, BIOLASE REPAIR protocol showed less bruising, swelling and post-operative bleeding in patients vs. MIST."
"Having used various laser wavelengths for over 15 years, I have found the Waterlase Express platform to be the most advanced, versatile, and user-friendly interface for my practice's focus on periodontology and dental implant surgery."
"70-80% of my failing patients responded well to this therapy, where they had not responded well to other treatment options in the past. 80-90% of those had a great response over one year. They all said they were glad to have chosen the laser over traditional surgery based on their comfort level."
"As Periodontists know, maintenance patients can show great results at first, yet the chronicity of periodontitis predicts the development of isolated defects after time. Other than repeated scaling and root planing, local delivery antimicrobials or isolated surgery our options are limited. The REPAIR protocol gives the clinician a minimally invasive option which patients readily accept. As our patients age, revision therapeutics delivered in this minimally invasive approach is an option that can be adapted in an effective and more patient-friendly procedure."
"Waterlase REPAIR is a highly effective, more aesthetic and more comfortable alternative to traditional surgical procedures for my patients."
"Utilizing the incomparable Waterlase is a daily part of my practice. It seems I am trying to save a failing implant, treat a periodontally involved tooth, biopsy a lesion, or treat other soft tissue defects every day, and I cannot imagine my practice without the Waterlase. I would highly recommend every dentist have this instrument in her/his office. Your patients will thank you."
See the Side Firing Tip Clean Implants
Clinical Animation: REPAIR Implant with Waterlase
Clinical Animation: Implant Uncovering with Waterlase
Learn More
Clinical Results
Products
 

Waterlase Express™

Easy, portable, affordable.  Learn More!

 

Waterlase iPlus®

The most trusted all-tissue laser. Learn More!