Provide Quick Pain Relief
With more than 39 million adults or 22% of American adults experiencing orofacial pain (Lipton e al, JADA 1993) Epic diode lasers are a powerful addition, helping you deliver a new type of patient experience and generating new revenue for your practice.
In addition to soft tissue and whitening capabilities, the Epic line of diode lasers provides a therapeutic and non-invasive way to treat pain in as little as ten minutes.
Using a special handpiece attachment, your Epic laser transforms from an award-winning surgical and whitening device to a fully capable solution for reducing and managing oral and maxillofacial pain.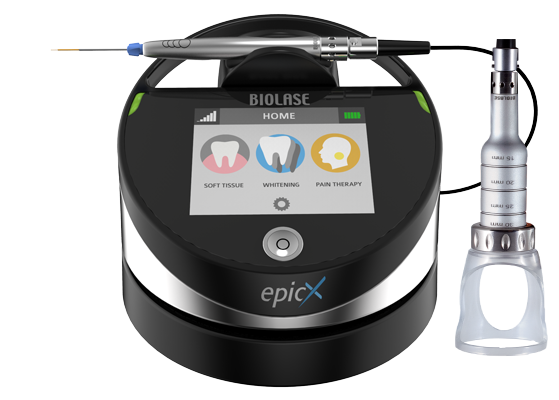 "From a business perspective, the BIOLASE laser has grown our practice tremendously. We've incorporated so many new patients into our practice. They come by word-of-mouth, they come just wanting a laser experience, and I've doubled my production on a daily basis."
"I'm doing procedures I would have never done without the BIOLASE laser such as soft tissue biopsies, periodontal surgery or REPAIR surgery, frenectomies, and so much more! It became very obvious that the laser is a phenomenal tool and that is would easily pay for itself."
"Hands down the ROI has been amazing! We can now treat kids and do the whole mouth in one visit, the kids are more comfortable and able to tolerate treatment more, which means we can do more in a single visit."
"Being able to cut not only hard tissue, but soft tissue, to be able to improve wound healing, and less swelling, less pain, and less anesthetic has changed the way we do this minimally invasive dentistry."
Speaker: Dr. Chris Walinski
Speaker: Dr. Chris Walinski
Learn More
Clinical Results
Products
Learn More
Clinical Results
Products