Browse our collection of Waterlase Dentistry™ case studies. Find a  brief illustration of the transformative power of Waterlase technology, its impact on our customers' practices, and their patients' care.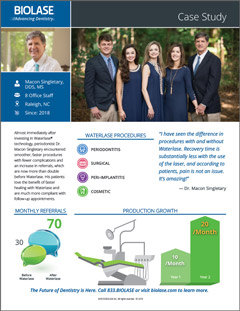 Periodontist Macon Singletary doubles his production and referrals after adding Waterlase technology to his practice.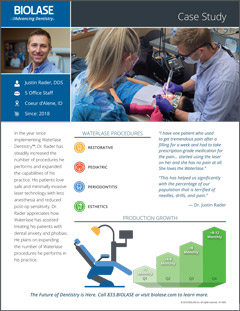 Dr. Rader has seen steady growth while easing his patient's dental anxiety, thanks to Waterlase Dentistry.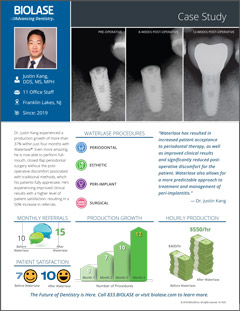 A 50% increase in periodontal referrals is the result of Dr. Kang's investment in minimally invasive Waterlase.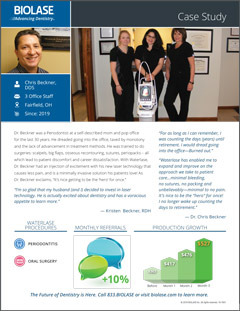 Waterlase Dentistry helped revitalize Periodontist Chris Beckner's passion and energy, while turning him into a "Hero".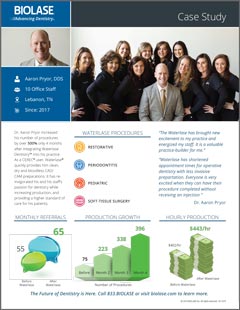 Dr. Pryor discovered Waterlase Dentistry would not only provide a revitalized interest in dentistry, but a healthy ROI.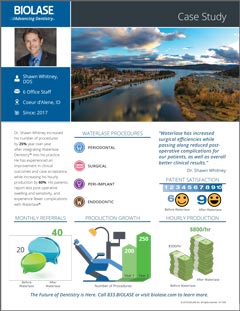 A dramatic increase in Dr. Whitney's patient satisfaction index is surpassed by an even higher increase in hourly production.
"I'm doing procedures I would have never done without the BIOLASE laser such as soft tissue biopsies, periodontal surgery or REPAIR surgery, frenectomies, and so much more. Waterlase is a phenomenal tool and it easily pays for itself."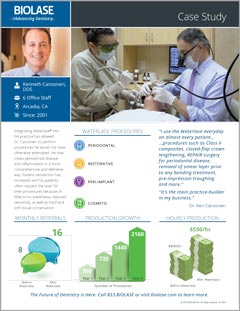 General practitioner Dr. Canzoneri expands his practice to include new procedures he would not have attempted otherwise.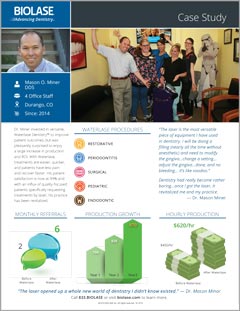 Waterlase Dentistry pays off big for Dr. Miner in both patient comfort and satisfaction, as well as production volume.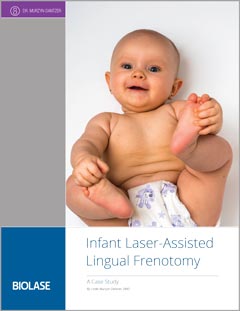 Dr. Murzyn-Dantzer, faculty member of Children's Hospital Colorado, presents the benefits and techniques of minimally invasive, infant lingual frenotomies to treat tongue-tie.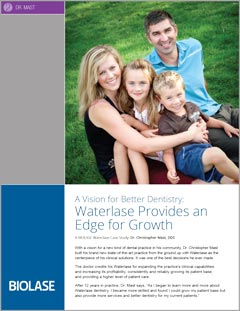 Case Study: Dr. Christopher Mast
Waterlase Dentistry expands the capabilities of Dr. Christopher Mast, resulting in consistent practice growth, as he builds a high-tech practice from the ground-up.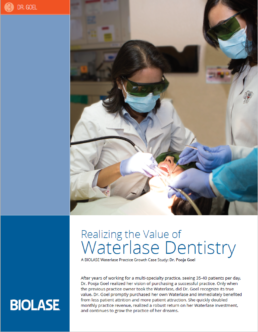 Dr. Goel increases referrals and doubles her monthly revenue after investing in Waterlase technology.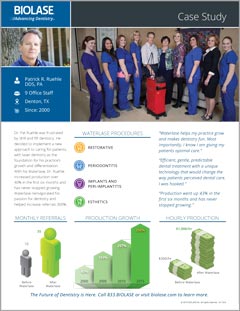 A 300% increase in referrals jump-starts a revitalization and healthy growth for Dr. Ruehle's practice in rural Texas.