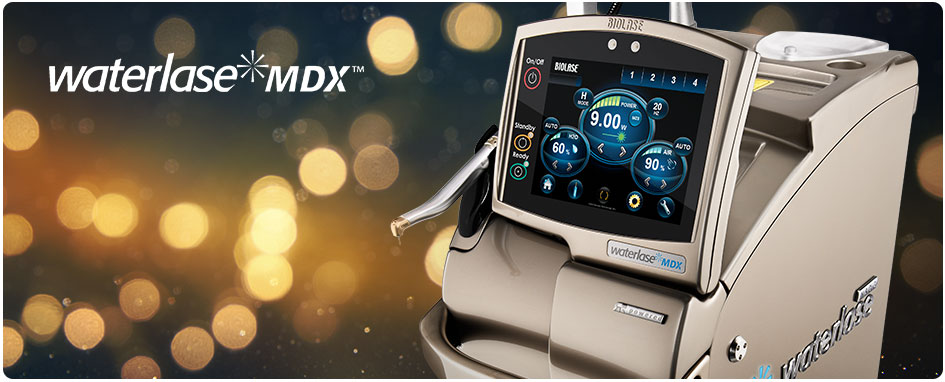 Redefine the Dental Experience for Your Patients!
Waterlase is the market's best-selling all-tissue laser… This minimally invasive dental laser system will help you give your patients the best possible experience and give your practice an opportunity for growth. Waterlase MDX features up to 9 W of power and an easy-to-use interface to simplify the operation of this versatile clinical tool.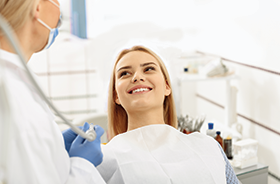 Resolve Daily Clinical Challenges
Every day, you face numerous clinical challenges – from controlling bleeding, managing impinged tissue, accessing decay in tough-to-reach proximal surface. Fortunately, Waterlase offers you complete versatility across all tissue types.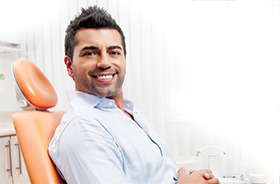 Supreme Patient Comfort and Results
Waterlase is engineered to provide a refreshing, comfortable patient experience when compared to traditional tools such as needles, drills and scalpels. In an age where patient satisfaction is communicated in public ways, your practice needs the best, most comfortable options available.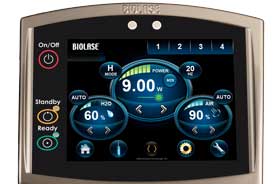 Intuitive Interface
Waterlase MDX features an easy-to-use interface with convenient presets make operation efficient and quick to learn!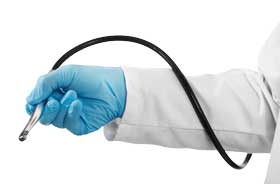 Maximum Flexibility
Waterlase MDX utilizes SureFire Delivery System! An extremely light and flexible fiber optic cable which helps alleviate user fatigue.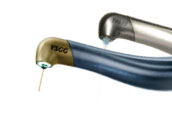 Maximum Versatility
Two ergonomic, contra-angle handpieces for maximum versatility and access, compared to bulky articulating arms.
*Product not available for sale in USA
*Product not available for sale in USA
| | |
| --- | --- |
| Dimensions | 10.5 x 19 x 32 in (27 x 48 x 91 cm) |
| Weight | 75 lbs. (34 kg) |
| Operating Voltage | 100-230 VAC |
| Main Control | Circuit Breaker |
| On/Off Control | Keyswitch |
| Water Type | Distilled or De-ionized Only |
| External Air Source | 80 – 120 psi (5.5 – 8.2 bar)(4.1-8.2 bar) |
| Interaction Zone | 0.5 – 5.0 mm from Handpiece Tip to Target |
| Laser Classification | IV (4) |
| Medium | 2,780nm |
| Power | 0.1 to 8.0 W (MDX300), 0.1 to 9.0 W (MDX450) |
| Pulse Energy | 0-300mJ (MDX300), 0-450mJ (MDX450) |
| Pulse Duration | 10-50 Hz Clinician Selectable |
| Tip Diameter | 200 – 1200 µm |