BIOLASE Dental Lasers: Expanding The Capabilities Of The Modern Dental Practice
BIOLASE Dental Lasers: Expanding The Capabilities Of The Modern Dental Practice
I am a huge advocate of preventative dental care, and believe that if we arm people with the information they need to know, most dental problems can be solved before they begin. This philosophy originates from my own enthusiasm about education, which has been essential in allowing me to help my patients live healthy, happy lives.
After receiving a Bachelor of Science degree in Biology, I completed two years of research in Neurobiology through the Hedco Neurobiology Department, and then attended the University of Southern California, School of Dentistry. My devotion to my trade has also presented me with the opportunity to teach, which has been extremely rewarding, while providing me with the opportunity to continue to expand my own knowledge and expertise. Staying abreast of the latest procedures and technology in dentistry is crucial to keep up with the rapid pace at which the industry continues to grow.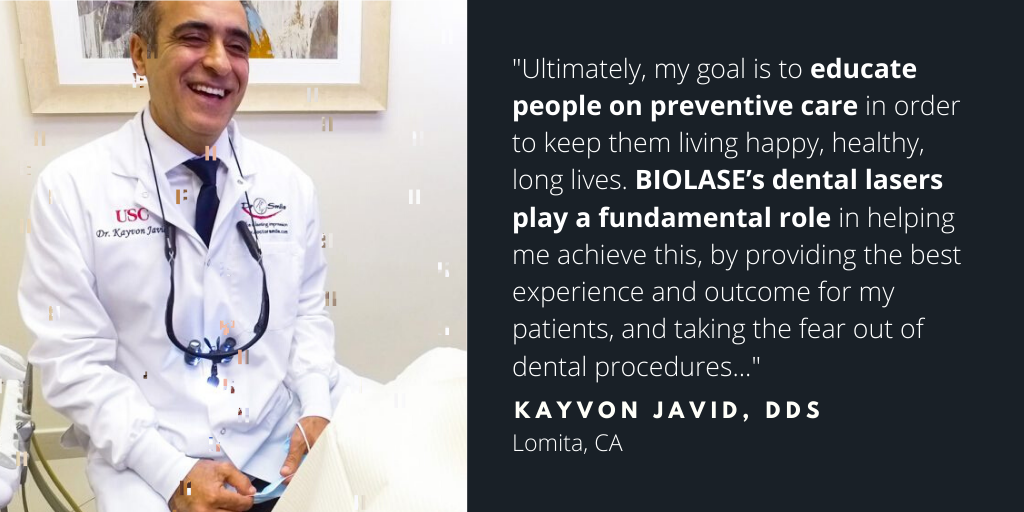 My practice, Dr. Smile Dental Group, implemented the use of BIOLASE dental lasers four years ago and since then we have seen a significant positive impact on our patients, specifically in regards to tissue response and healing. Currently, we use the Waterlase iPlus and the Waterlase Express lasers predominantly for periodontal surgery, osseous surgery, gingivectomy, crown lengthening, removal of lesions for biopsy, frenectomy granulation of extraction socket before grafting, decorticating of cortical bone before grafting, creating access holes for transfer of platelet-rich fibrin as a part of soft tissue augmentation, uncovering implants, esthetic gingival recounting and restorative dentistry.
We also use the BIOLASE Epic laser for treatment of cold sores, aphthous ulcers, gingivectomy, crown lengthening and teeth whitening. Dental lasers are an integral part of our dentistry practice and give us the ability to do things that we would otherwise not be able to do.
Some patients are nervous when first hearing about laser procedures, but once they learn that the treatment is less painful and guarantees faster healing, they become interested. Dental lasers offer numerous benefits to patients including being less invasive, reducing bleeding and minimizing postoperative discomfort. What's more, they provide immediate pain relief post-operation.
It is the innovative advancements in technology that enables us to perform surgeries that are virtually pain-free with little or no downtime. This goes a long way in regards to changing the way people view dentistry and their experience in the dentists' chair.
The foundation of my practice, Dr. Smile Dental Group, is family, teamwork, partnership and philanthropy. Together, my wife (Dr. Mariam Nadi) and I, have built something we are extraordinarily proud of. We owe our growing list of loyal clientele to hard work and dedication and we are thrilled to be known as the preferred provider for other dentists.
Our goal is to enhance the dental experience for every patient and change the way they feel about visiting the dentist. It is our mission to make patients feel welcome, important, safe and relaxed — to ensure they will continue to get the care and treatment they need. Our adoption of BIOLASE's Waterlase dental lasers has hastened this process and proven our commitment to a positive dental experience to our patients.
While I am incredibly proud of our success and accomplishments, I am also a huge advocate of supporting the community and giving back. I am passionate about donating my time and dental services to underprivileged children through Communities Child. And, it is both meaningful and rewarding to support Communities Child in their efforts to fight local child hunger. My aim is to contribute to the lives of the less fortunate and make a positive impact in the community. We must work together if we are to minimize and ultimately eliminate these social problems.
Here at Dr. Smile Dental Group, we pride ourselves on creating an environment that is welcoming and relaxed, enhancing the overall dental experience. Ultimately, my goal is to educate people on preventive care in order to keep them living happy, healthy, long lives. BIOLASE's dental lasers play a fundamental role in helping me achieve this, by providing the best experience and outcome for my patients, and taking the fear out of dental procedures that many have come to expect with traditional methods.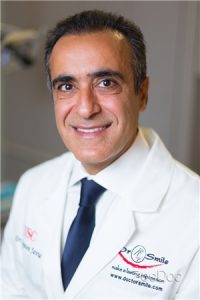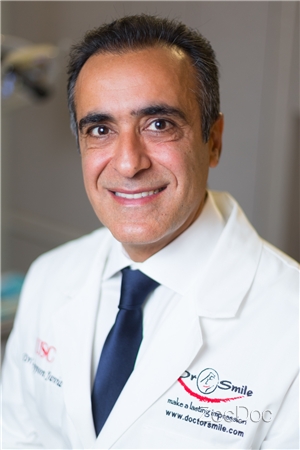 About Dr. Kayvon Javid, DDS
Dr. Kayvon Javid has dedicated his life to changing the way you view dentistry. While he showcases his artistry in his daily scheduled surgeries, his primary goal is to educate the community on preventative care, to keep his patients healthy and living long and ample lives. 
After graduating from the University of Southern California with a Bachelor of Science degree in Biology, he completed two years of research in Neurobiology through the Hedco Neurobiology Department. From there, he went to the University of Southern California, School of Dentistry. After, he opened his family operated business, Doctor Smile Dental Group. Dr. K is proudly a part of elite Fellowships such as the California Implant Institute and the International Congress of Oral Implantologists.
Dr. Javid also knows that his learning is accelerated by his teaching. Given this philosophy, he has accepted the position as Clinical Instructor for Implant Team Seminars, The New York Implant Institute and Institute of Mega Implant. As if he wasn't busy enough, Dr. Javid is a licensed phlebotomist and certified phlebotomy trainer; PRF and blood derived products trainer. Additionally he is the CEO of the Global Implantology Institute and on the board of the 4M Implant Institute, two institutions dedicated to improving implant education with cutting edge techniques.