Dental Lasers and Precise, Predictable, Comfortable Dentistry
By dr. Patrick Ruehle, DDS
Lasers have been a part of my practice for around 15 years now, and are used in virtually every aspect of what we do. It has been my experience that almost anything we do in dentistry can be done better with dental lasers, resulting in more predictable results and a more comfortable experience for patients. Adding lasers to my practice has also changed the way our patients perceive dental procedures, and ultimately transformed my business into a truly innovative practice patients want to talk about.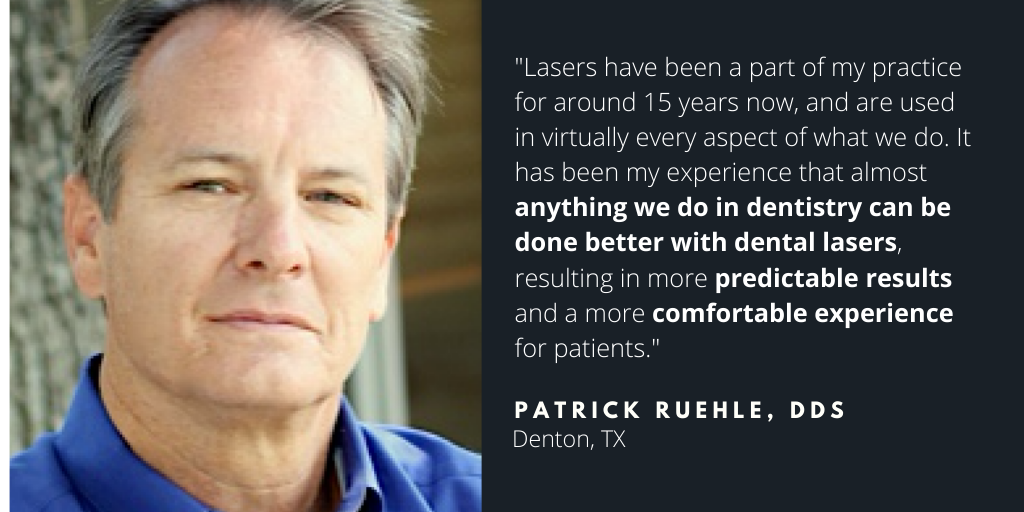 Currently, we have two Waterlase iPlus lasers, three Epic Diodes and an iLase Diode laser. The iPlus is the go-to instrument for all soft-tissue surgeries, prepping teeth for fillings, as well as the final preparation of teeth for crowns, veneers and bridges. Together, the iPlus and diodes are used in periodontal therapy, endodontics, oral surgery and implant surgery. On its own, the diode is able to be used for pain relief, biostimulation, teeth whitening and to speed orthodontic movements.
Dental lasers have enhanced the productivity, comfort and speed at my practice. First, we have been able to increase the amount of procedures we can do in-house without having to refer patients out. Fillings can be completed without injections and we are able to perform soft tissue surgery with only a topical anesthetic. These patients have little to no postoperative discomfort, and typically experience faster healing time.
All of this has led to an increased comfort level for our patients as well. Patients are amazed at how easy, virtually painless and quick the procedures are. The most common comment we hear  after a patient experiencing a laser treatment is "wow, that was amazing!" After experiencing laser dentistry, they never want to go back to traditional treatment methods. In fact, we have patients that make eight hour round trips to visit our practice because they wanted or needed to be treated with the laser.
Finally, patients value the time they save when being treated with a dental laser. There was a young college student who came to my practice with a severely abscessed tooth and was told by another professional that he needed a root canal and crown, and that it would take around three to five visits of more than an hour each to complete the procedure. Between classes and working he simply did not have the time for the procedures and was contemplating having his tooth taken out, at just 18 years old! Dental lasers allowed us to effectively treat his infection and restore his tooth in a single visit. This one treatment, using dental lasers, allowed us to prevent him from losing a critical tooth as a young age.
Having integrated dental lasers into all areas of my practice has been a positive experience for myself, my staff and my patients. We have found their benefit to be unparalleled as they allow for precise, predictable and comfortable dentistry.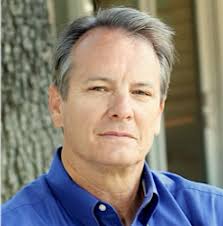 Patrick Ruehle, DDS, FAGD, MWCLI, FICOI,  is a skilled dentist with a wealth of experience at Garden Oaks Family & Cosmetic Dentistry in Denton, Texas. The practice proudly serves the general family and cosmetic dental needs of Texans and their families in Denton, Corinth, Argyle, Robson Ranch, Bartonville, Lake Dallas, Shady Shores, Highland Village, and Lantana, Texas.