Beginning October 1, 2016, BIOLASE will no longer be providing trade-in credit for WaterLase MD's towards an upgrade to a new WaterLase branded all-tissue laser.
The World's Most Preferred All-Tissue Laser.
Now Even Better!
Cut Hard-Tissue 250% Faster1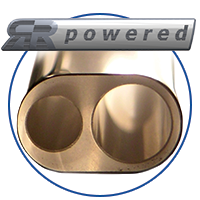 The WaterLase iPlus is faster and more efficient than previous YSGG lasers.
Increased pulse energy – 2.5x that of WaterLase MD, increased hard-tissue cutting efficiency with less sensitivity
New Pulse Modes – Patented pulse technology for faster, smoother soft-tissue surgery and improved calculus removal
25% More Power – Ablate hard-tissue with more speed and precision
Cut 2.5x faster than WaterLase MD with less sensitivity on hard-tissue
Our Most Reliable WaterLase Yet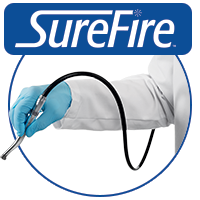 WaterLase iPlus includes the all-new SureFireTM YSGG Delivery System, the new gold standard in all-tissue laser delivery systems.
Redesigned optics for increased precision and dependability
Optimized to provide more uptime with a replaceable, disposable shield
Decrease your treatment fatigue with the most flexible, tension-free delivery system available
Improved clinical access and comfort with the SureFire exclusive contra-angle handpiece, navigate subgingivally with ease
Intuitive Graphic User Interface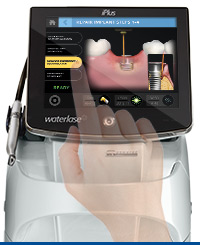 Increase productivity with 56 pre-set procedures for select-and-go treatment with WaterLase iPlus
Enhanced, upgraded user-interface including new REPAIRTM apps to assist in the management of periodontitis and peri-implantitis
Take control of tissue with adjustable settings as needed
Step-by-Step Protocols
WaterLase iPlus includes new step-by-step protocols that guide you through managing perio and peri-implant patients — which represent some of the most difficult yet highest earning clinical opportunities in your practice.
Minimally invasive – No scalpels, sutures, or elevated flaps (in most cases)
Easier patient management –Increase case acceptance and compliance
Versatile – Treat specific sites or full mouth cases in a single visit
Cash flow – Offer in-demand laser treatments for high-earning perio and peri-implant procedures
There has never been a better time to upgrade your WaterLase!
Contact your BIOLASE Account Manager at 888.424.6527 to upgrade your WaterLase MD before time runs out.