Making a Difference for Dental Patients
Making a Difference for Dental Patients
The dental landscape is a rapidly evolving and changing environment. To thrive, dentists need to be equipped with the latest technologies and methodologies to meet patient expectations and remain relevant. Advances in the industry, such as dental lasers, have entered the scene, and many practices and patients have realized that they much prefer procedures that utilize them. As a dentist, using dental lasers makes my job more joyful and rewarding. With dental lasers, I am able to not only provide treatments that are noninvasive, which significantly improves my patients' experiences and cuts down on the time patients spend in the chair without the need for anesthesia, but also increase my return on investment by offering more services in-house.
Dr. Christina Do talks about Waterlase Dental Laser and its impact on her practice and approach to dentistry.
My practice, Smiles4OC, has been working with BIOLASE dental lasers for 15 years with high levels of success in both our expanded treatment offerings and in overall patient satisfaction. Currently, we use different BIOLASE lasers for multiple procedures. The models we use include Waterlase iPlus, Waterlase Express, Waterlase MD, Epic 10, iLase and Ezlase. Due to the flexibility of these devices and our growing patient demand, we are able to use them in all of our restorative and periodontal treatments.
Making the switch to dental lasers was not only a benefit for me, but also for my patients. Since our adoption of lasers, we have noticed a positive impact on our patients. According to a recent study from DentaVox in which 18,000 people participated, 61 percent said that they had some fear associated with going to the dentist – more specifically, they fear the pain commonly involved with an average dental visit. Dental lasers take the fear out of your visit, impacting the patient experience tremendously. As a noninvasive tool, dental lasers reduce the need for anesthesia, create smaller incisions and allow for faster postoperative healing and recovery time and less need for prescribed medication. The benefits span across all ages – serving our older patient population with gentler treatment and changing the typical dental visit for children and their parents, who often dread taking their kids to the dentist.
I have seen new patients, who have never been exposed to laser treatments, respond positively. They love that they often do not require any anesthetics, that the visit is quicker and that they are being treated with the best-in-class equipment. After the treatment is complete, their relief is palpable. As a dentist who deals with both child and adult patients, it is heartwarming to see the positive patient reaction to our use of lasers across multiple generations.
Nowhere is our patient satisfaction with BIOLASE lasers more apparent than on our review page, where patients have rated our practice and described their experiences. Currently, Smiles4OC has 145 reviews and has maintained the elusive five star rating, with comments referring back to our use of dental lasers throughout. We believe that this is largely due to our unique approach to dentistry, which has been aided immensely by our introduction of BIOLASE laser products. Adding BIOLASE lasers to our arsenal of treatment options has given Smiles4OC an advantage and has allowed us to reshape the way our patients think about their trip to the dentist.
Watch Testimonial Videos by Dr. Christina Do
Clinical Benefits of Waterlase Dental Laser
Maxillary Frenectomy Waterlase Case Study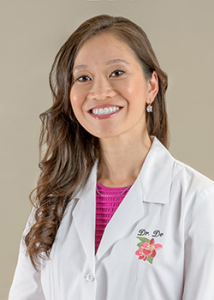 Dr. Christina Do is a graduate of Loma Linda University School of Dentistry. She is a native Californian, born and raised in the "OC." Throughout her dental career she has had the honor of practicing with some of the leading laser professionals in the world. Her perseverance in mastering dental laser technology gives her the opportunity to lecture worldwide to other dentists on the applications of laser dentistry. She is a lecturer and researcher for the leading dental laser company, Biolase. She is also on the executive board of the Coleman Research Group which connects medical investors with experts in the field of dentistry.
Dr. Do has been featured numerous times on the Emmy award winning show "The Doctors" performing various dental procedures. Her exceptional skills in laser dentistry has her featured on PBS American Health Journal, laser educational videos, published journal articles, multiple dental magazines, and actively sought out for dental treatments by patients. Dr. Do is an active member of the ADA, CDA, OCDS, WCLI, and the AAPD.