As the global leader in dental lasers, BIOLASE takes pride in developing champion products which elevate the standard of care within the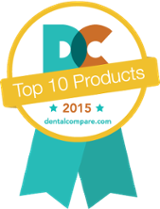 industry.  Two notable dental accolades were awarded to BIOLASE in 2015.  The WaterLase iPlus all-tissue laser, was named by Dentaltown as a Townie Choice Award winner for the 12th consecutive year, and the company's EPIC X diode laser was recognized by Dentalcompare as one of its Top 10 Products for 2015.
The annual Dentaltown Townie Choice Awards are voted on by the 185,000 members of the Dentaltown community and are acknowledged as the most comprehensive listing of peer-recommended products in dentistry today. The WaterLase iPlus was recognized as the leading hard-tissue laser for the 12th consecutive year. The awards were announced on Dec. 17, 2015 and published in the December issue of Dentaltown magazine.
The Dentalcompare Top 10 Products of 2015 were announced on Dec. 18, 2015. Dentalcompare is an online directory and news source that helps dental professionals discover the leading technologies available today and compare them side-by-side across manufacturers in an objective manner. Dentalcompare receives more than 55,000 unique visits to its website each month by dental professionals. The Top 10 Products of 2015 are the result of rankings based on the number of times each product was researched during 2015, resulting in a view of the industry as a whole and thereby providing insight into product and technology trends within the profession.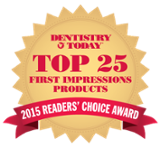 "Our purpose is to better enable clinicians to repair and restore patient's dental conditions while reducing the pain, fear, and anxiety generally associated with dentistry through the use of our industry leading dental laser technologies," stated President and CEO Harold C. Flynn, Jr. "These two new industry accolades add to our record of leadership and underscore that BIOLASE is the premier provider of laser instruments for both the all-tissue laser and soft-tissue laser categories. We will continue our commitment to elevating the standard of care in dentistry while enabling clinicians to achieve better business returns," added Flynn.
Since its introduction in 2011, the WaterLase iPlus has been the world's most preferred all-tissue laser. The WaterLase iPlus provides pre-programmed settings and step-by-step applications for more than 50 procedures and clinical applications including the REPAIR Perio and REPAIR Implant protocols for treating periodontitis and peri-implant disease, giving dentists the ability to provide productive and meaningful laser treatments for patients which address the growing epidemic of gum disease in the U.S. and around the world.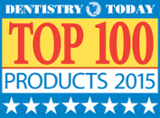 The EPIC X laser is the only soft-tissue diode laser cleared by the FDA for three modalities of treatment: soft-tissue surgery, whitening, and pain therapy. The EPIC X was also recognized in July 2015 by Dentistry Today magazine as one of the Top 100 Products of 2015. Dentistry Today is the leading clinical news magazine for dentists in the US.