A better way to manage peri-implantitis
Achieve definitive degranulation of inflammatory lesions with photo-acoustic laser energy.
Gain effective subgingival access for decontamination of implant surfaces and in between threads with unique side firing tip.
Effectively debride the implant surface without damaging or significantly affecting the surface temperature of titanium implants. 1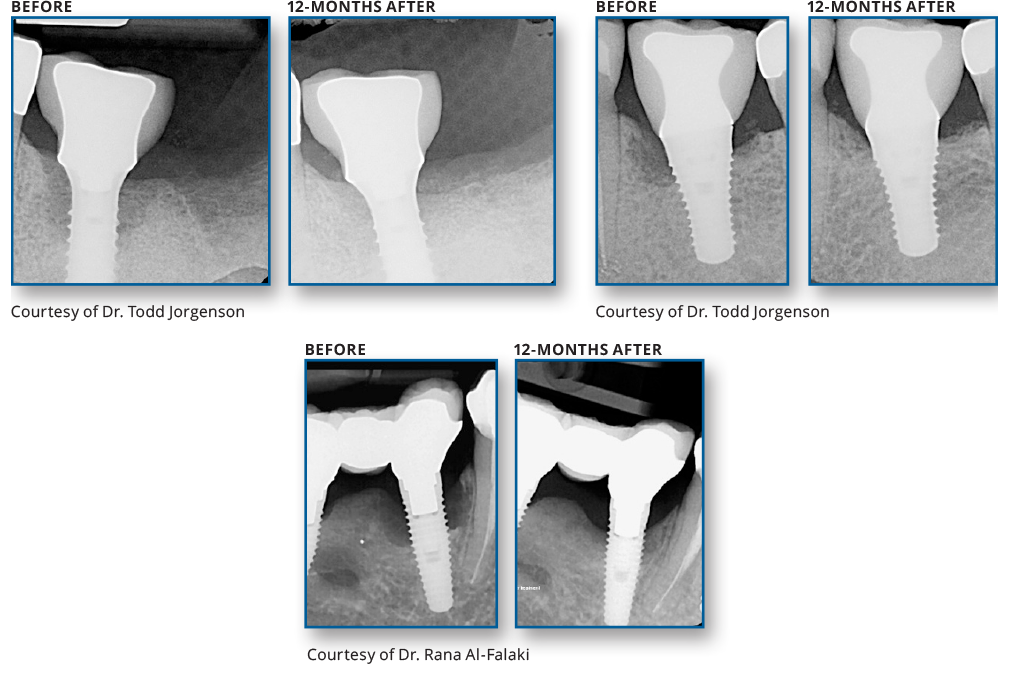 1 Human Histologic Evaluations of the Use of Er,Cr:YSGG Laser to Decontaminate an Infected Dental Implant Surface in Preparation for Implant Reosseointegration; Myron Nevins, Stefano Parma Benfenati, Primo Galletti, et. al.; International Journal of Periodontics and Restorative Dentistry, November/December 2020, Volume 40, Issue 6
GET YOUR FREE DIGITAL Implant PROTOCOL GUIDE TODAY!
Dr. Paul Chang discusses why successfully managing peri-implantitis is more important than ever. 
Human Histologic Evaluations of the Use of Er,Cr:YSGG Laser to Decontaminate an Infected Dental Implant Surface in Preparation for Implant Reosseointegration
Myron Nevins, Stefano Parma Benfenati, Primo Galletti, Andrei Zuchi, Cosmin Sava, Catalin Sava, Mihaela Trifan, Andriano Piattelli, Giovanna Iezzi, Chia-Yu Chen, David M Kim, Isabella Rocchietta
This investigation was designed to evaluate the reestablishment of bone-to-implant contact on infected dental surfaces following decontamination with Er,Cr:YSGG laser and reconstructive therapy.
International Journal of Periodontics and Restorative Dentistry, November/December 2020, Volume 40, Issue 6
"Having used various laser wavelengths for over 15 years, I have found the Waterlase Express platform to be the most advanced, versatile, and user-friendly interface for my practice's focus on periodontology and dental implant surgery."
"70-80% of my failing patients responded well to this therapy, where they had not responded well to other treatment options in the past. 80-90% of those had a great response over one year. They all said they were glad to have chosen the laser over traditional surgery based on their comfort level."
"Waterlase REPAIR is a highly effective, more aesthetic and more comfortable alternative to traditional surgical procedures for my patients."
"Utilizing the incomparable Waterlase is a daily part of my practice. It seems I am trying to save a failing implant, treat a periodontally involved tooth, biopsy a lesion, or treat other soft tissue defects every day, and I cannot imagine my practice without the Waterlase. I would highly recommend every dentist have this instrument in her/his office. Your patients will thank you."