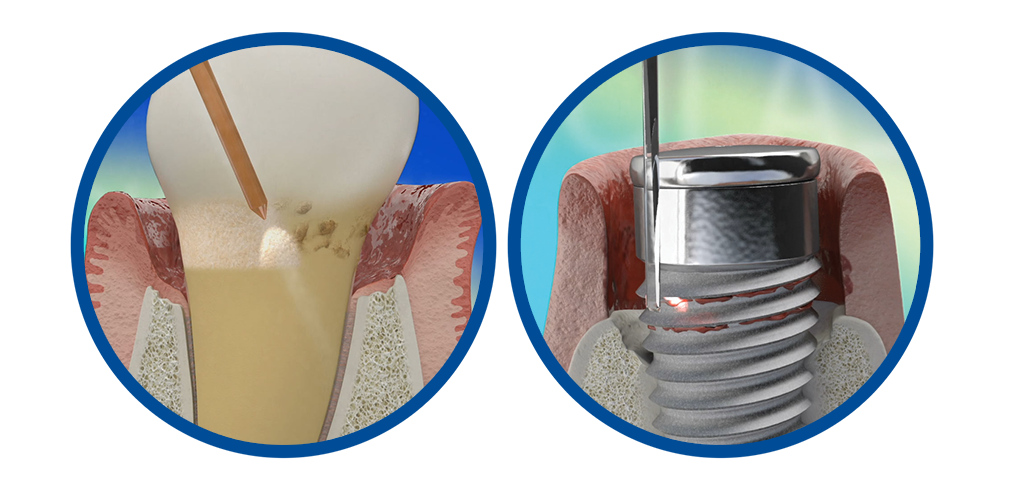 NEW STANDARD OF CARE PROTOCOLS FOR PERIO EXCELLENCE
Minimally invasive Waterlase REPAIR™ protocols achieve superior patient reported outcomes (less swelling, bruising, and bleeding) and faster procedure times — with equivalent clinical results to the latest open flap techniques.
Results supported by a landmark, first-of-its-kind, blind study designed by The McGuire Institute™ to meet stringent AAP Best Evidence Consensus standards.
EFFECTIVELY MANAGE YOUR PERIODONTAL PATIENTS
REPAIR Perio™ was developed by Periodontists as a minimally invasive treatment option for managing periodontally compromised patients. Utilizing the Waterlase and patented Radial Firing Perio Tip™ (RFPT), REPAIR Perio provides a safe, effective laser treatment protocol that patients accept.
Minimally invasive protocol supported by clinical evidence and scientific research
Treat site specific or full mouth cases for greater flexibility and convenience in treatment planning
Versatile YSGG laser ideal for comprehensive clinical use on soft and hard tissue
Cleared for gentle removal of subgingival calculus
FDA Cleared for cementum-mediated periodontal ligament new-attachment to the root surface in the absence of long junctional epithelium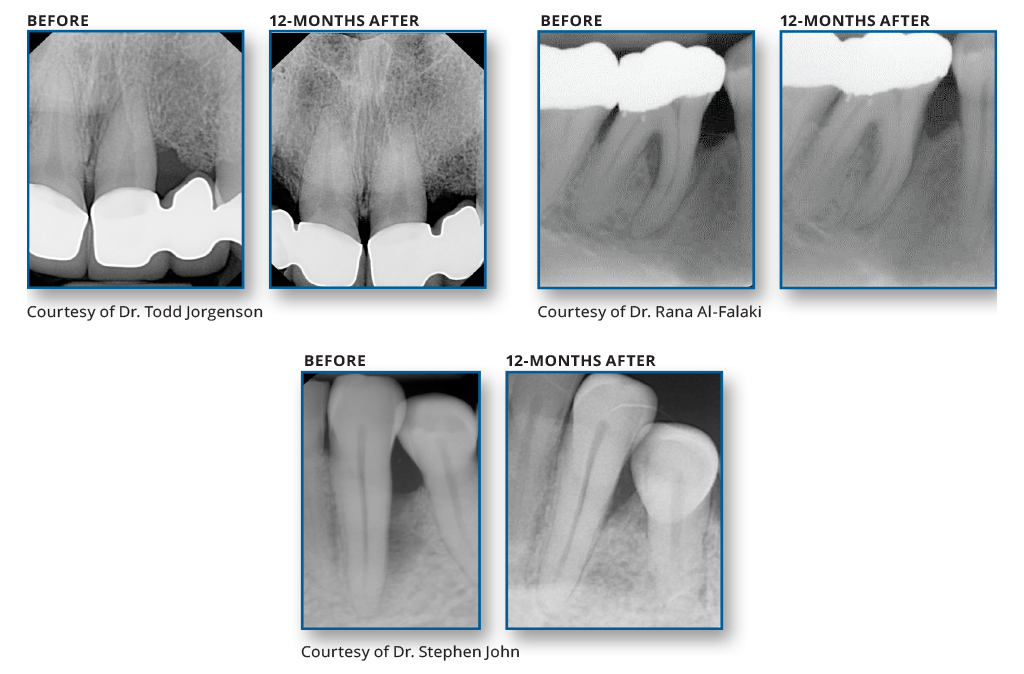 "The McGuire Institute designed a randomly controlled clinical trial with the strictest of protocols— examiners were calibrated and blinded to the treatment preformed, and test and control sites all received non-surgical root planning prior to receiving random assignment of either minimally invasive surgery (MIST) or Er:YSGG laser mono-therapy.

We believe this study sets a new standard in laser research in treating periodontitis. At the 6 month time point, BIOLASE REPAIR protocol showed less bruising, swelling and post-operative bleeding in patients vs. MIST."
"Having used various laser wavelengths for over 15 years, I have found the Waterlase Express platform to be the most advanced, versatile, and user-friendly interface for my practice's focus on periodontology and dental implant surgery."
"I use my Waterlase for almost every Periodontal, Oral Surgery and Implant procedure. I have less bleeding during and after treatment, better visual access, less trauma, less post-op discomfort and a much happier patient."
"Waterlase REPAIR is a highly effective, more aesthetic and more comfortable alternative to traditional surgical procedures for my patients."
"Utilizing the incomparable Waterlase is a daily part of my practice. It seems I am trying to save a failing implant, treat a periodontally involved tooth, biopsy a lesion, or treat other soft tissue defects every day, and I cannot imagine my practice without the Waterlase. I would highly recommend every dentist have this instrument in her/his office. Your patients will thank you."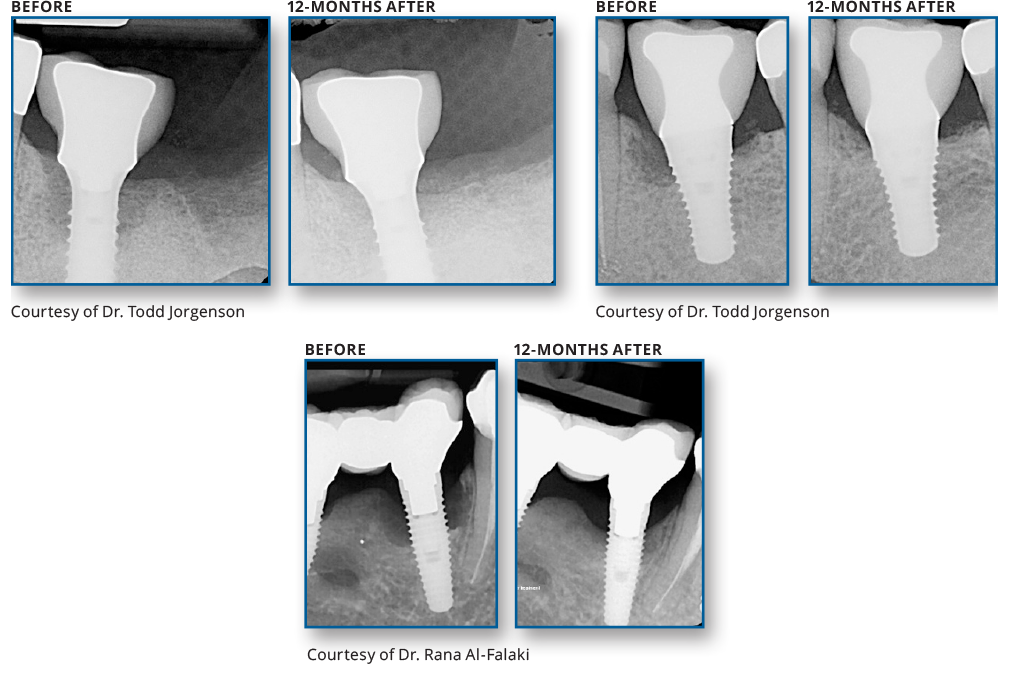 Successfully managing peri-implantitis is more important than ever.
REPAIR Implant™ provides clinicians a scientifically advanced method to assist with the growing threat of peri-implantitis. Utilizing the Waterlase® and patented Radial Firing Perio Tips™ (RFPT), and Side Firing Tips™ (SFT), REPAIR Implant provides a minimally invasive and easy way to work on metal implants.
Easy subgingival access to implant surface and in-between threads, without reflecting a flap
Treat site specific or full mouth cases for greater flexibility in treatment planning
Cooling water and laser interaction effectively debride the implant surface without damaging or significantly affecting the surface temperature of the implant
Gentle removal of granulation tissue associated with implant disease
certified laser education
PERSONALIZED IN-OFFICE TRAINING
No travel required! In-office training by Periodontists—for Periodontists, with ongoing personal coaching, ensures true integration throughout the office. Staff are encouraged to participate.
Schedule training based on what works for you! Experience excellence with minimally invasive, patient-friendly, value-added procedures.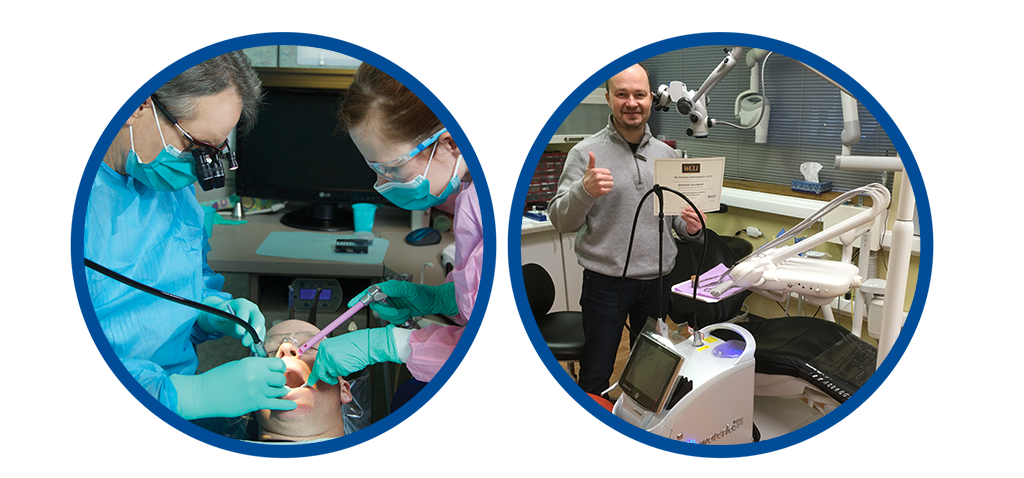 Clinical Animation: REPAIR Perio with Waterlase
Clinical Animation: REPAIR Implant with Waterlase
Clinical Video: REPAIR Perio using a Waterlase iPlus
Courtesy of Dr. Jose Mercano