Dental Lasers Enter Biological Dentistry to Improve Oral Health and Overall Wellness
By Sanda Moldovan, MS, DDS
Dental Lasers Enter Biological Dentistry to Improve Oral Health and Overall Wellness
By Sanda Moldovan, MS, DDS
Oral health goes hand in hand with nutrition and overall wellness. Being an advocate of integrative oral health and well-being, I am committed to using my knowledge and expertise to not only provide the highest level of care for my patients but also to help them live life to the fullest. Educating people on the importance of these topics is something I am deeply passionate about. Over my career, I have been extremely fortunate to teach and speak at events around the world. This visibility allows me the extraordinary opportunity to educate and impact lives on a much broader scale.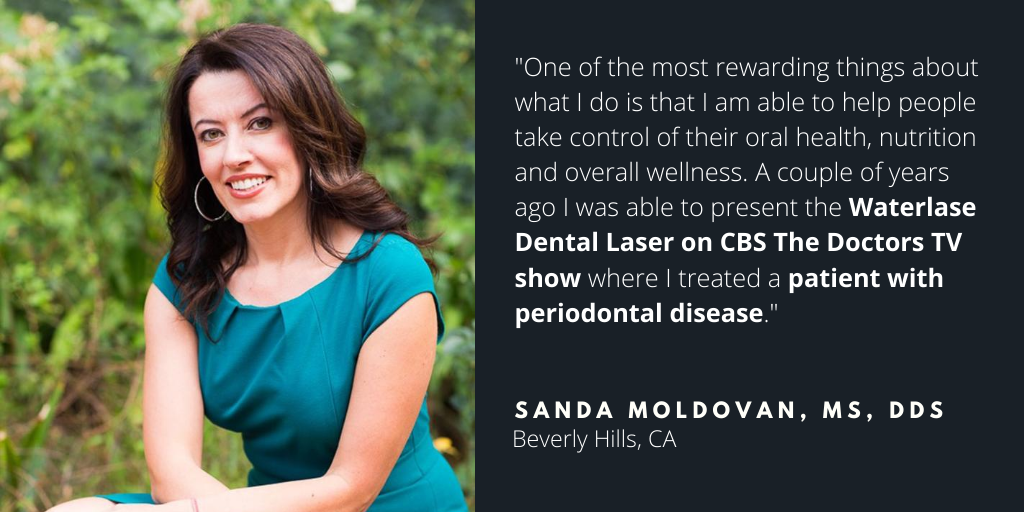 My first experience with BIOLASE dental lasers was during my residency at the University of California, Los Angeles (UCLA) in 2001. We were so excited to use the first generation of the BIOLASE Waterlase laser. Fast forward and my practice, Beverly Hills Dental Health and Wellness, still uses the Waterlase dental laser today, only we use the advanced fifth-generation. The Waterlase dental laser is used for both surgical procedures, such as periodontal osseous surgery, crown lengthening, biopsies and frenectomies, as well as for restorative needs. We also use the BIOLASE Epic 10 laser for periodontal pocket disinfection, pain therapy and temporomandibular joint dysfunction (TMJ), as well as whitening.
Dental lasers have made a significant impact on our practice, but possibly the most notable is that they offer the gentlest, least invasive treatment, and still provide excellent results. Patients experience less pain and minimized downtime post-surgery. We have a great number of patients who call our practice just to inquire if we offer laser treatments.
A large part of being able to help people with their oral health starts with fostering relationships and establishing trust. Having the ability to perform dental procedures with virtually no pain and very little downtime, whether it is a biopsy or periodontal microsurgery, goes a long way in this regard. This is the biggest patient benefit. We are living in a world of instant results; people expect to be in and out of the dentist's office quickly and without pain. I feel that is exactly what lasers provide.
Dental lasers provide many benefits, including the ability to address small cavities without the use of a numbing injection, which is a great service for our young patients. And, since we are a biological dental practice, most of our patients prefer a more holistic approach and choose laser pain therapy overtaking traditional pain medication. For this reason, I am very pleased with the results of laser pain therapy with the application of the Epic 10, which are felt almost immediately. BIOLASE lasers offer so much versatility and precision with different treatments, from pain therapy to whitening and even surgery.
One of the most rewarding things about what I do is that I am able to help people take control of their oral health, nutrition and overall wellness. A couple of years ago I was able to present the Waterlase dental laser on CBS The Doctors TV show where I treated a patient with periodontal disease. The patient was on stage the very next day, reporting no discomfort. What is even more remarkable is that after an eight-month period, a 12 mm pocket was reduced to 4 mm without performing flap surgery. This advanced level of healing and recovery would not be possible without the use of laser treatment. 
Aside from being a full-time periodontist and television personality, I authored the book Heal Up!: Seven Ways to Faster Healing and Optimum Health. In my book, I talk about how to repair, rebuild and renew naturally, which is essential for anyone who is seeking the safest and best alternative treatment options.
Traditional periodontal surgery is becoming a thing of the past. I am thrilled to practice biological dentistry and excited to see what the future holds in regard to this type of care, as well as laser technology to bring the highest level of oral healthcare to my patients. In my opinion, dental lasers offer numerous advantages and are essential for any periodontal practice.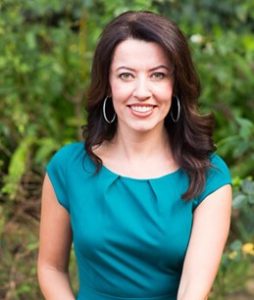 Dr. Moldovan is recognized internationally for her expertise in oral health, nutrition, and anti-aging. With two Board certifications – periodontics and nutrition – she brings an uncommon level of well-rounded knowledge to biological dentistry.
Her career in dental care began with a degree from Ohio State University School of Dentistry. Dr. Moldovan completed a postgraduate course in periodontics at the University of California Los Angeles. You might think that a Master of Science in Oral Biology from UCLA would round out her qualifications, but Dr. Moldovan did not stop there. She is a certified nutritionist and a diplomate in the American Academy of Periodontology.