Stony Plain Dental Centre Takes the Next Step to a Better Patient Experience with the Epic Hygiene Dental Laser
Stony Plain Dental Centre, a member of 123Dentist, one of Canada's largest majority dentist-owned network of dental practices, has been serving the Stony Plain community in Alberta, Canada, since 1999. The general dental practice "committed to providing a personalized dental experience," has recently incorporated dental laser technology to help better serve their patient needs.
Over the years, Stony Plain Dental has encouraged its team to grow with continuing education, training, advances in dental technology, and communication skills to better serve and communicate treatment options to its patients.
A couple of months ago, BIOLASE's Canadian Distributor, Sinclair Dental, introduced the practice to the latest dental laser technology, the BIOLASE Epic Hygiene. With a staff of thirty, including a hygiene team of six, the team received personalized in-office training by clinical instructor and consultant, Chrissy Ford, RDH, BScDH, with over 20 years of industry experience. Ford is also a member and speaker for RDHU Inc., a leader in dental hygiene education in Canada with over 16,000 members. The training required a certification course covering laser physics, patient communication, billing and coding, and hands-on clinical training.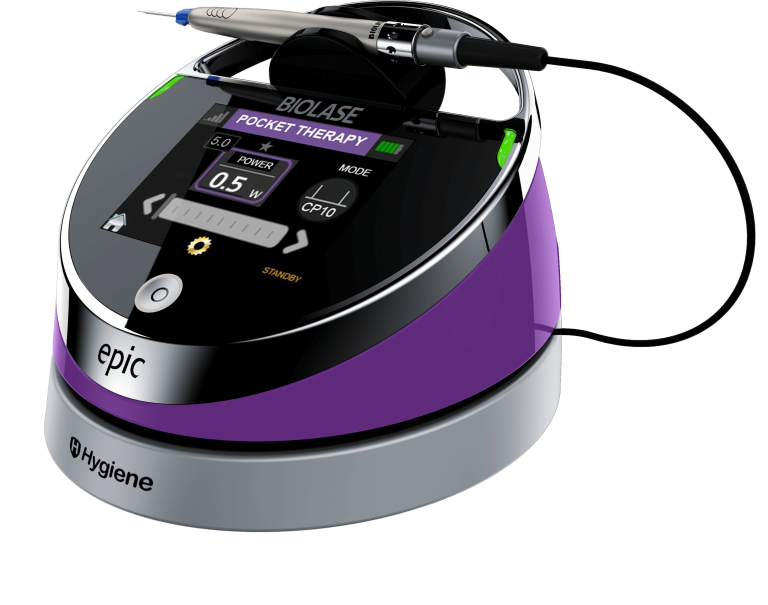 "I had definitely heard of dental lasers from the dental hygiene community in the past, and it started becoming more of an ongoing topic for dental hygienists. When I heard our team was going to be laser trained and certified, I was beyond excited," said Victoria Romanchuck, RDH at Stony Plain Dental. "I really wanted to see for myself what Epic Hygiene was capable of doing for me as a dental hygienist but most importantly for my patients."
The dental hygiene team is now practicing with two Epic Hygiene lasers in the office and incorporating the laser into their daily dental hygiene regimen, specifically for Laser Bacterial Reduction (LBR).
One of the biggest benefits, according to the dental hygiene team, is the patient's willingness to try laser treatment. They have introduced it to their current patient base, all of which happily return for their routine checkups and those in need of early periodontal treatment.
"I continue to be amazed by patients asking for the laser or hearing how they tell their friends and family about our practice because we offer laser treatment. One of our regular patients, who suffers from a comprised immune system, has noticed a dramatic improvement since starting laser treatment. This patient constantly had swollen gums and bleeding and never really improved or got worst – just maintained – until now we can definitely see the results," shared Victoria Romanchuck, RDH.
When asked if she would ever go back to practicing without a laser, Romanchuck responded, "Absolutely not. I would never go back to practicing without our Epic Hygiene and I'm sure my colleagues and patients would stand by that statement."
Epic Hygiene is a solution to assist in managing early periodontitis while increasing clinical production. Epic Hygiene helps reduce bacteria without aerosol production giving staff and patients more peace of mind. Designed by dental hygienists for dental hygienists, learn more about Epic Hygiene.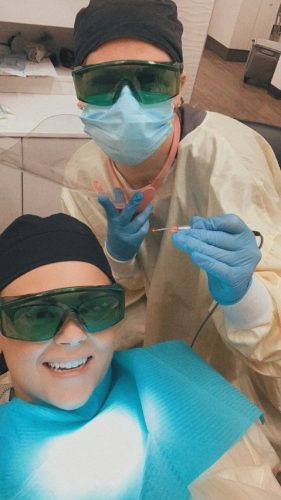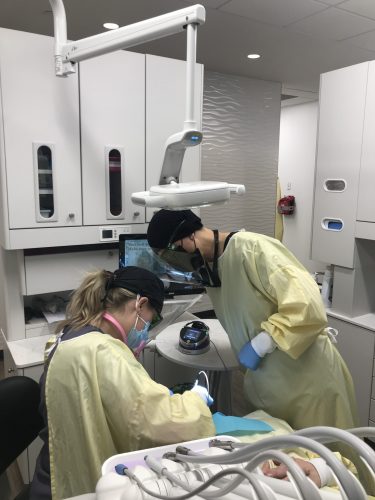 First picture – Victoria Romanchuck, RDH (left), and Krissy Ford, Trainer (right).
Second picture – Dental Hygienist (left) and Krissy Ford (right).
About Stony Plain Dental Centre
Stony Plain Dental Centre (SPDC) has been servicing Stony Plain and area since 1999. In 2012, the current owner, Dr. Zahra Gangji, purchased the practice.
SPDC is a general dental practice and offers restorative and cosmetic treatment such as crown and bridge, veneers, dental implants, sedation options, Invisalign®, and Botox®.
Our patients are important to us. We strive to give each patient an exceptional experience from the moment they walk into our office to the moment they leave.
To learn more about Stony Plain Dental Centre, please visit stonyplaindental.com.
BIOLASE, Inc. is a medical device company that is a global market leader in the manufacturing and marketing of proprietary dental laser systems that enable dentists and dental specialists to perform a broad range of minimally invasive dental procedures, including cosmetic, restorative, and surgical applications. BIOLASE's laser systems are designed to provide clinically superior, patient-friendly results for many types of common dental procedures compared to those achieved with traditional instruments. BIOLASE has sold over 41,000 laser systems to date in over 80 countries around the world.
Discover More Popular Posts